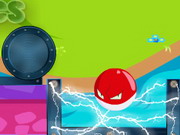 Voltorb Recovery
File Size: 901.24 Kb

Add This Game to Your Site:

Link to The Game:

Voltorb Recovery is a Puzzle game on GaHe.Com. You can play Voltorb Recovery in your browser for free. Voltorb has been weakened and now you need to make sure that he gets charged again. You can do this by taking Voltorb to the electric box. Are you able to get Voltorb healthy again?