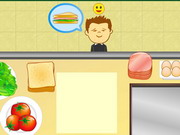 Sandwich Dash
File Size: 204.68 Kb

Add This Game to Your Site:

Link to The Game:

Sandwich Dash is a Skill game on GaHe.Com. You can play Sandwich Dash in your browser for free. Make sandwiches for the customers. Use the mouse to drag the ingredients to make a sandwich, and then drag the sandwich to the customer. Ham and egg must be cooked in the pan first, do not overcook.