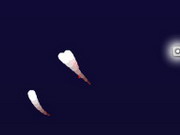 Orb Avoidance 2
File Size: 678.94 Kb

Add This Game to Your Site:

Link to The Game:

Orb Avoidance 2 is a Skill game on GaHe.Com. You can play Orb Avoidance 2 in your browser for free. Orb Avoidance is back, with a new graphical style and more changing gameplay. Mouse avoid to the next level by fighting back against your chasers and smashing them into the blocks. Orb Avoidance 2 tries to keep the exciting gameplay of its predecessor, but with an all new graphical design and a new change. Blocks can now explode after a certain amount of time, and there are special blocks that will always explode and make more orbs.