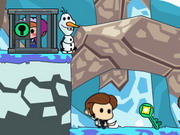 Frozen Olaf Vs Prince Hans
File Size: 2.42 Mb

Add This Game to Your Site:

Link to The Game:

Frozen Olaf Vs Prince Hans is an Action game on GaHe.Com. You can play Frozen Olaf Vs Prince Hans in your browser for free. Prince Hans grabbed princesses Elsa and Anna.He kept them in captivity on the South Island.In order to have enough time to control Arendelle,Prince Hans built many false cages.Now,only Olaf can rescue the princesses.Can you help Olaf to find the the real cage?
Control: Arrow keys to move.W or Up Arrow to jump. S or Down arrow to cast or recycle the head.