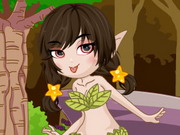 Forest Fairy
File Size: 958.14 Kb

Add This Game to Your Site:

Link to The Game:

Forest Fairy is a Dress Up game on GaHe.Com. You can play Forest Fairy in your browser for free. In the magic forest there is a enchanted lake and near by lives a beautiful fairy, one of the most shy of all fairies. She was cursed by a mean witch to appear only at night time. Because it is so dark, she sometimes mixes things up. Help her find the most beautiful outfit. Have fun saving the Forest Fairy with fashion sense!