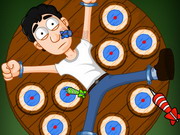 Danger Darts
File Size: 359.22 Kb

Add This Game to Your Site:

Link to The Game:

Danger Darts is a Sports game on GaHe.Com. You can play Danger Darts in your browser for free. Ever been to the circus or to see a magician and seen him throwing knives at someone on a revolving? Well now is your change to do this but with darts while trying to get a bullseye!