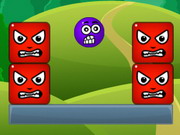 Crash Boom Bang
File Size: 3.61 Mb

Add This Game to Your Site:

Link to The Game:

Crash Boom Bang is a Puzzle game on GaHe.Com. You can play Crash Boom Bang in your browser for free. Block removal game with a twist! Choose from the Crash, Boom and Bang characters to remove all of the evil blocks.
Control: Mouse to place objects and aim them.