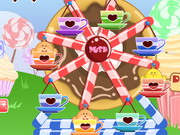 Candy Wheel
File Size: 450.02 Kb

Add This Game to Your Site:

Link to The Game:

Candy Wheel is an Other game on GaHe.Com. You can play Candy Wheel in your browser for free. Candy Wheel is fun and we have over 10 000 other fun games beside this game. It is not a simple amusement park, it is a park for small cute chickens. Moreover, it is not a simple carousel, it is a candy wheel, and you will have to ride your customers on this candy wheel.