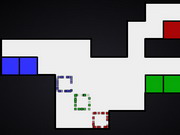 Blockage 2
File Size: 4.48 Mb

Add This Game to Your Site:

Link to The Game:

Blockage 2 is an Action game on GaHe.Com. You can play Blockage 2 in your browser for free. Navigate all of the colored blocks to their respected portals.
Control: Click on shapes then move them with the A and D keys. Space to lock the blocks.