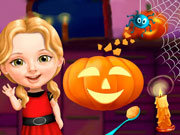 Sweet Baby Girl Halloween Fun
File Size: 9.37 Mb

Link to The Game:

Sweet Baby Girl Halloween Fun is an Other game on GaHe.Com. You can play Sweet Baby Girl Halloween Fun in your browser for free. To celebrate the advent of Halloween, children will dress up as cute ghosts and knock on doors from house to house, asking for candy, otherwise, they will trick or treat. At the same time, it is said that this evening, various ghosts and monsters will dress up as children and mix in the crowd to celebrate the coming of Halloween. Sweet Baby Girl Halloween Fun is a game related to the Halloween theme. In the game, you can enjoy the most adventurous and interesting Halloween celebration! Your task is to carve a pumpkin on the eve of Halloween and decorate her house with lanterns, bats, and ghosts, create the Halloween look of your dreams and make a beautiful witch costume.
Control: Click and drag the mouse to play.