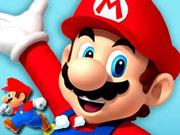 Super Mario Egypt Stars

Link to The Game:

Super Mario Egypt Stars is an Action game on GaHe.Com. You can play Super Mario Egypt Stars in your browser for free. You control Mario by tapping as he constantly runs forward. You time your taps to pull off stylish jumps, midair spins, and wall jumps to gather coins and reach the goal. Travel through plains, caverns, ghost houses, airships, castles, and more. Mario Egypt Stars is a brand new game featuring your beloved superhero, where you have to guide your character among a deadly maze inside the great Pyramid of Egypt in order to collect all the Shine sprites that Bowser stole.
Control: Arrow keys to move and jump.