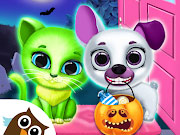 Scary Makeover Halloween Pet Salon
File Size: 10.43 Mb

Link to The Game:

Scary Makeover Halloween Pet Salon is an Other game on GaHe.Com. You can play Scary Makeover Halloween Pet Salon in your browser for free. To celebrate the advent of Halloween, children will dress up as cute ghosts and knock on the door, asking for candy, otherwise, they will trick or treat. At the same time, it is said that on this evening, various ghosts and monsters will dress up as children and mix into the crowd to celebrate the coming of Halloween, and humans will dress up as ghosts in order to make the ghosts more harmonious. Your task is to prepare for Halloween night, including taking a shower, combing your hair, wearing a costume with ghost patterns, and decorating a nearby haunted house.
Control: Click to play.