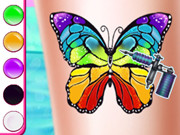 Princess Punk Fashion
File Size: 10.71 Mb

Link to The Game:

Princess Punk Fashion is an Other game on GaHe.Com. You can play Princess Punk Fashion in your browser for free. Elsa often complains that there are only blue and white clothes in her wardrobe. She hopes to have other clothes in different styles and colors. Ariel is tired of the sweet and elegant images of princesses. She hopes to change her image. Belle proposed to try recently Very popular punk style. Please help the three princesses tattoo, dress up and create punk makeup. Elsa likes snowflake tattoos, Ariel likes butterfly tattoos, Belle likes rose tattoos. Please create unique tattoos for the princesses according to their preferences. Are you ready? Let them appear before us with a new image.
Control: Mouse click or tap to play.