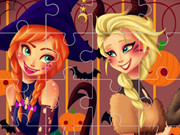 Princess Halloween Jigsaw
File Size: 14.71 Mb

Link to The Game:

Princess Halloween Jigsaw is a Puzzle game on GaHe.Com. You can play Princess Halloween Jigsaw in your browser for free. Halloween is coming soon. For Westerners, this is a very important festival. Halloween Puzzle Game is a puzzle game related to Halloween. Enjoy twelve beautiful images, an intuitive interface, and 4 difficulty levels. The faster will you complete the puzzle, the more points you will get. It is worth noting that you can choose any pattern you like. You need to complete the selected puzzle within the specified time. If you are a fan of puzzle games, don't miss this game. Are you ready?
Control: Mouse or tap to play.