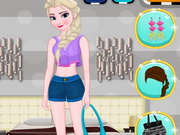 Frozen Elsa Driving Test
File Size: 1.91 Mb

Add This Game to Your Site:

Link to The Game:

Frozen Elsa Driving Test is an Other game on GaHe.Com. You can play Frozen Elsa Driving Test in your browser for free. Elsa is little tensed as she has a driving test today to get her car license. She needs to show her driving skill in front of a strict officer. Can you help Elsa to drive the car in the prescribed spot as per the rules? First dress her up for the test. Change her hairstyle and wear her colourful and stylish attire along with supportive accessories. You have to use the arrow keys to drive the car in right, left, forward and backward direction. Oh Yes! You have helped her to complete the test successfully and Elsa gets her driving license. Let's celebrate the occasion with a cake. Decorate the cake with appropriate topping and icing.