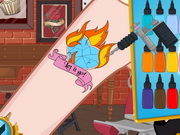 Elsa Tattoo Designer
File Size: 3.59 Mb

Add This Game to Your Site:

Link to The Game:

Elsa Tattoo Designer is an Other game on GaHe.Com. You can play Elsa Tattoo Designer in your browser for free. Elsa Frozen is a true modern girl. She loves fun modern outfits and lately she has wanted a fun tattoo. Help her create a gorgeous one in the game called Elsa Tattoo Designer! First, pick the spot for the tattoo, which can be on the upper arm, lower arm or leg. My suggestion is the upper arm. Now, choose one of the fun tattoos from the collection. You can choose a cute snow flake with a rose, an Olaf tattoo or many other. The best choice is the one with the rose.