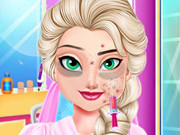 Elsa's Beauty Surgery
File Size: 6.2 Mb

Link to The Game:

Elsa's Beauty Surgery is an Other game on GaHe.Com. You can play Elsa's Beauty Surgery in your browser for free. Although Disney's Elsa is not a beautiful girl, she never gives up change. When she heard that her sister Anna would participate in the beauty pageant, she also wanted to participate, so Elsa decided to have cosmetic surgery! As a professional cosmetic surgeon, she needs your help. Come and make a special surgical plan for Elsa and ensure the successful operation. Finally, choose beautiful clothes and jewelry for her, and she will win the competition.
Control: Mouse click or tap to play.