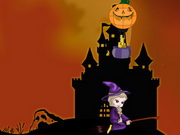 Baby Elsa Halloween Challenge
File Size: 1.42 Mb

Add This Game to Your Site:

Link to The Game:

Baby Elsa Halloween Challenge is a Skill game on GaHe.Com. You can play Baby Elsa Halloween Challenge in your browser for free. The kith and kin of Elsa would always celebrate Halloween in a grand manner. For your relatives Halloween celebration means a lot. On every Halloween people will conduct many games. As usual they have planned to conduct fun and frolic games. Among them one game is very challenging. The participant will have to collect money as much as you can. It seems that our kid Elsa is also going to take part in the challenging event. Help the girl collect money up in the air. She will be given a magical broom on which she will be seated. On the way you may see some Satan's which will come on your way. Do not touch them. If you do so, your money will be subtracted. Amass as much as wealth you can. With the money you earn, buy clothes and whatever you want to buy. Given time for you is two minutes. Collect the bags before the time runs out.