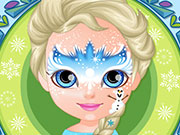 Baby Barbie Frozen Face Painting
File Size: 987.98 Kb

Add This Game to Your Site:

Link to The Game:

Baby Barbie Frozen Face Painting is an Other game on GaHe.Com. You can play Baby Barbie Frozen Face Painting in your browser for free. Are you ready for an awesome new face painting session with baby Barbie? As you know by now, this is one of her many hobbies, just like making stuffed friends, beads necklaces and doll houses. Baby Barbie is madly in love with the Frozen fairytale story. Her favorite characters are princess Elsa, her sister Anna and their cute snowman friend Olaf. She often dresses up as them. Check out the pretty girl's Frozen costumes! Doesn't she look absolutely adorable in that gorgeous blue Elsa dress, the lovely Anna outfit or the funny Olaf costume? Baby Barbie wants to add something extra to each of these attires. Face painting sounds like a wonderful idea. Have a peek at the fabulous Frozen face painting designs and draw them on the cute girl's face. Select a design and follow the face art steps to create it. Draw the outline first by connecting the dots as directed. Add colors next using a paint brush and sprinkle lots of glitter as the last stage. Aren't you having a blast, girls? Which face art do you fancy? Match one or more designs to each costume in order to find the perfect combination. Have a sensational time playing our fab new baby game!